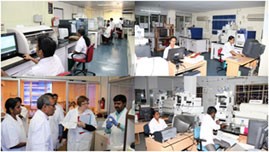 National Residue Control Plan (NRCP) is a statutory requirement for export to EU countries. Under NRCP, definite sampling schedule and sampling strategies are drawn every year for monitoring the residues of substances like Antibacterial/Veterinary Medicinal Products and environmental contaminants. Samples are collected from hatcheries, feed mills, aquaculture farms and located in maritime states and tested for the presence of any residue/contaminant of the following substances:
Group A – substances:
Substance group
Substances
Substance monitored
A1c
Steroids
Progesterone
MedroxyProgestrone (acetate)
17-β Oestradiol
17-alpha-methyl Testosterone
A2a
Prohibited substances listed in Table 2 of the Annex to Regulation (EU) No 37/2010
–Chloramphenicol
Chloramphenicol
A2b
Prohibited substances listed in Table 2 of the Annex to Regulation (EU) No 37/2010 – Nitrofurans
Nitrofuran Metabolites
(AOZ, AMOZ, SEM, AHD & DNSH)
Nitrofurans (parent compounds, in case of feed samples)
A2c
Prohibited substances listed in Table 2 of the Annex to Regulation (EU) No 37/2010-
–Nitroimidazoles
Nitroimidazoles (Metronidazole, Dimetridazole & Ronidazole , Ipronidazole and their hydroxyl compounds )
A2d
Pharmacologically active substances, not listed in Table 1 of the Annex to Regulation (EU) No 37/2010– other A2 substance
Dapsone
Dapsone Malachite Green and Leucomalachite Green
Crystal Violet and Leucocrystal Violet
A3b
Protection products & biocides
2,5-dichlorobenzoic acid methyl ester (sum of 2,5-dichlorobenzoic acid and its ester)
A3c
Other unathuorised antimicrobials
Norfloxacin
Nalidixic acid
Group B substances/residues:
Substance group.
Substances
Substance monitored
B1a
Antimicrobials
1.Quinolones /Fluoro-quinolones
Oxolinic acid
Difloxacin
Sarafloxacin
Enrofloxacin(sum of Enrofloxacin & Ciprofloxacin)
Danofloxacin
Flumequine
2. Tetracyclines
Tetracycline & its 4-epimer
Oxytetracyline & its 4-epimer
Chlortetracycline & its 4-epimer
3.Sulfonamides
Sulfadiazine, Sulfamethoxazole, Sulfamethoxypyridine, Sulfamethizole, Sulfamethazine, Sulfamerazine, Sulfapyridine, Sulfadimethoxine, Sulfachloropyradizine, Sulfathiazole, Sulfadoxine
4.Macrolides
Erythromycin A
Tilmicosin
Tylosin
5.Beta Lactams
Lincomycin
Ampicillin
Benzyl Penicillin
Dicloxacillin
Oxacillin
Cloxacilin
Amoxicillin
6.Polypeptides
Colistin A & B
7.Diaminopyramidines
Trimethoprim
8.Aminoglycosides
Neomycin B
Spectinomycin
B1a
Anthelmintics
Emamectin
Ivermectin
Pesticides:
| | | |
| --- | --- | --- |
| Substance group | Substances | Substance monitored |
| Pesticides | Organochlorine compounds | α BHC, β BHC, γ BHC, Aldrin, 2,4 DDT, 4,4 DDT, 2,4 DDE, 4,4 DDE, 2,4 DDD, 4,4 DDD, Heptachlor, Heptachlor Epoxide, Dieldrin, Endrin, HCB, Cis-Chlordane, Trans-Chlordane and Oxy-Chlordane |
Contaminants:
Substance group
Substances
Substance monitored
Halogenated persistent organic pollutants
Poly Chloro Biphenyls
PCBs ( PCB 28, PCB 52, PCB 101, PCB 138, PCB 153, PCB 180 )
Dioxins/Furans and dioxin like PCBs
Metals
Chemical Elements
Mercury, Cadmium, Arsenic and Lead
Following are the other residue monitoring/control programmes undertaken by MPEDA QC Laboratories:
Monitoring of Pesticide Residues at National Level (MPRNL):- This is an ongoing project funded by Dept. of Agriculture (MoA). The samples of inland fishes, crustaceans, and Molluscans collected from all the maritime states are analyzed for organo-chlorine pesticide residues by MPEDA QC Laboratory in Kochi.
Monitoring of radio nuclides:- The wild-caught Fishes, Shrimps and Cephalopods samples are collected from different regions and forwarded to BARC, Mumbai, for the analysis of radio nuclides.